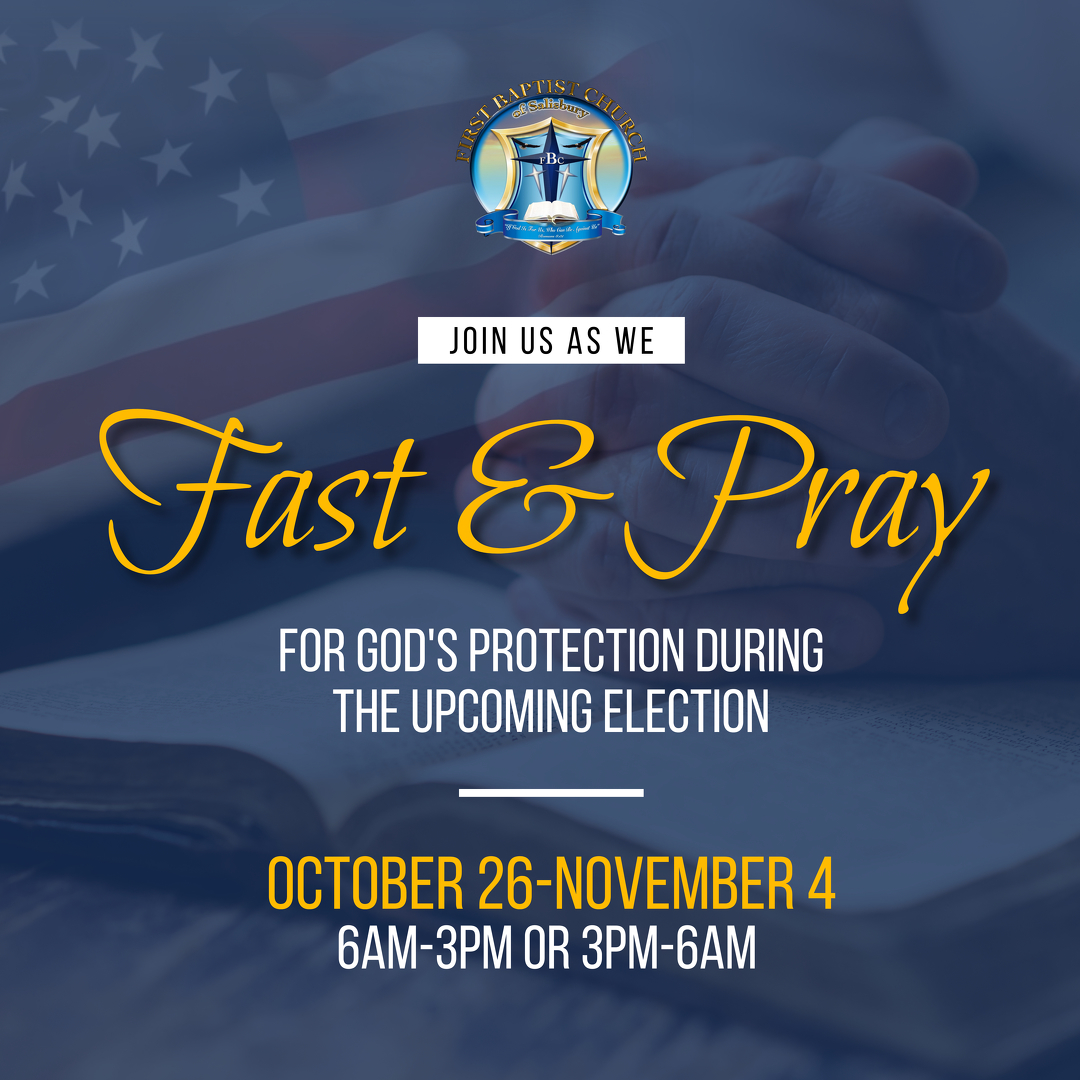 Fast & Pray
What is fasting? Fasting is an intentional denial rooted in a quest to get closer to God. Fasting is a physical sacrifice for spiritual increase. Fasting is a commitment to deny your physical flesh and to increase your spiritual power and effectiveness. Fasting takes prayerful discipline (Mark 9:29).
What is prayer? Prayer is your intentional reach for God's direct and specific involvement in your life. Prayer is communication with God, giving thanks, requests and desires knowing that He can and will respond with thoughts, ideas, situations, people, or primarily His word (James 5:16, 1 John 5:14-15 and Philippians 4:5-6).
What are the fasting options?
Denial Fast (abstaining from all food)
Daniel Fast (abstaining from all food and beverages except fruits, vegetables, juice, and water)
Desert Fast (abstaining from all beverages except water)
Drought Fast (abstaining from all television programming except religious or spiritual channels)
Instructions: From October 26-November 4, all participants are asked to fast and pray multiple times each day from 6AM-3PM or 3PM-6AM. This will be a time for us to increase our faith and focus on spiritual growth, spiritual maturity, new vision, insight, and new beginnings of empowerment for the future. Isaiah 58:6 says, "Is this not the fast that I have chosen: to loose the bonds of wickedness, to undo the heavy burdens, to let the oppressed go free, and that you break every yoke?"
Prayer Focus:
Upcoming Presidential Election
Spiritual Wisdom and Insight
Health and Healing
Family and Friends
Souls Saved
Our Church and the Community of Faith
Pastor and First Family
The President of the United States and Family
Financial Freedom
Future Endeavors
Note: If you have a health concern, please consult your physician/medical doctor before participating in this fast. Pastor Watson and/or First Baptist Church will not be responsible or held liable for any health complications, for your participation is at your own risk.
If you have a prayer request that you would like us to partner with, please submit the request at www.firstbaptistsby.org. God bless you!